What is the story behind the world's most successful aircraft rescue and fire fighting vehicle?
It begins in the 1970's. International aviation is gaining momentum, not least due to the introduction of new wide-body aircraft, such as the Boeing 747. For airport fire departments, this means they need vehicles with larger quantities of extinguishing agents that they can deploy quickly and safely. Vehicles that do not yet exist and have to be developed first. Only a handful of international manufacturers dare to tackle this task, Rosenbauer being one of them. The motto back then was the same as today: If we are going to build such vehicles, then they should be the best in the world!
Move heavy loads quickly
In principle, an ARFF vehicle is a dynamic system in which heavy loads must be controllable at high speeds. A combination that is not really much in demand for a truck. Who needs top speeds of 135 km/h in the transport sector, which you are not allowed to drive anywhere anyway, and cornering speeds that can literally knock a normal truck over? In addition, ARFF vehicles have to be extremely capable of off-road use, because their operating locations are often beyond asphalted runways and roadways, which downed aircraft overshoot. This cannot be done with vehicles of a classic design, where, to put it simply, a firefighting superstructure is mounted on a standard truck chassis. So Rosenbauer set about developing this very special type of vehicle from scratch. These were the basic conceptual considerations:
The vehicle should be able to transport as much extinguishing agent as possible. The very first thoroughbred ARFF vehicles were capable of carrying 13 tons. Today, a PANTHER 8x8 has up to 19,000 liters on board with an in-service weight of 52 tons.


The vehicle needs a robust all-wheel drive chassis that can handle high axle loads and has an excellent shock absorption system. It also needs to have the lowest possible overall center of gravity to minimize the risk of tipping over in fast corners. Later on, Rosenbauer will also offer electronic support for this, such as the ESC (Electronic Stability Control) or the DWD (Driver Warning Device) system. It is also important that the axle load distribution is as even as possible, which in turn depends on where the engine and transmission are installed and where the pump unit and tanks are located in the body module.


Ultimately, the decisive factor is how the vehicle and firefighting equipment can be combined to form an optimally coordinated complete system. The overall performance of the operational vehicle depends on this: driving dynamics, handling and driving safety as well as the performance and range of functions of the firefighting equipment - from the interaction of powerful pumps, foam proportioning systems and turrets to special functions such as pump & roll operation (application of extinguishing agents while driving) and the equipment of the vehicles with booms for firefighting from an elevated position.



Only the best of the best
In view of these high requirements, Rosenbauer makes no compromises and uses only the best of the best for the construction of its ARFF vehicles right from the start:
Special heavy-duty chassis with a usual track width of three metres for the greatest possible driving stability.
High-quality chassis components with coil-sprung rigid axles and shock absorbers for safe handling and good tracking stability even on rough terrain.
Powerful engines with around 1,000 hp, which together with high-performance automatic transmissions enable rapid acceleration and high top speeds.
While some of the vehicle technology is new territory, the firefighting equipment is based on more than 50 years of experience. In its core competence, Rosenbauer is one of the technological leaders and trendsetters in the firefighting industry and has repeatedly defined the state of the art with developments such as the first petrol-engine-powered portable fire pump in the 1920s, the high-pressure extinguishing process in the 1950s, and the first industrial-grade foam proportioning systems in the 1960s. This is also the ambition for the ARFF vehicles. They get the most powerful pump units and foam proportioning systems implanted as centerpieces.
Shown here is a Simba 6x6 for Hamburg Airport in 1984.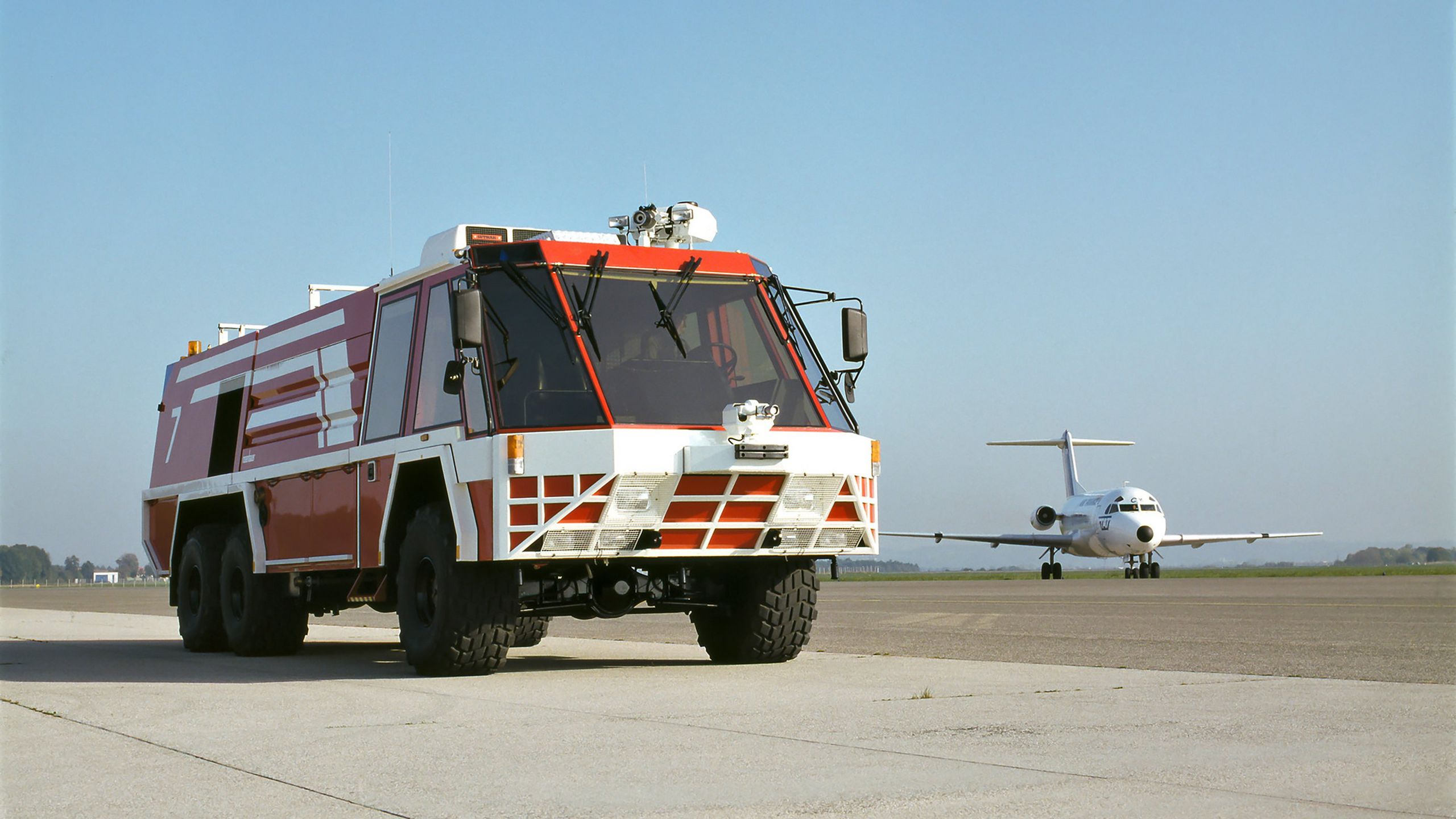 The Simba 6x6 for Budapest shows its best side in 1984.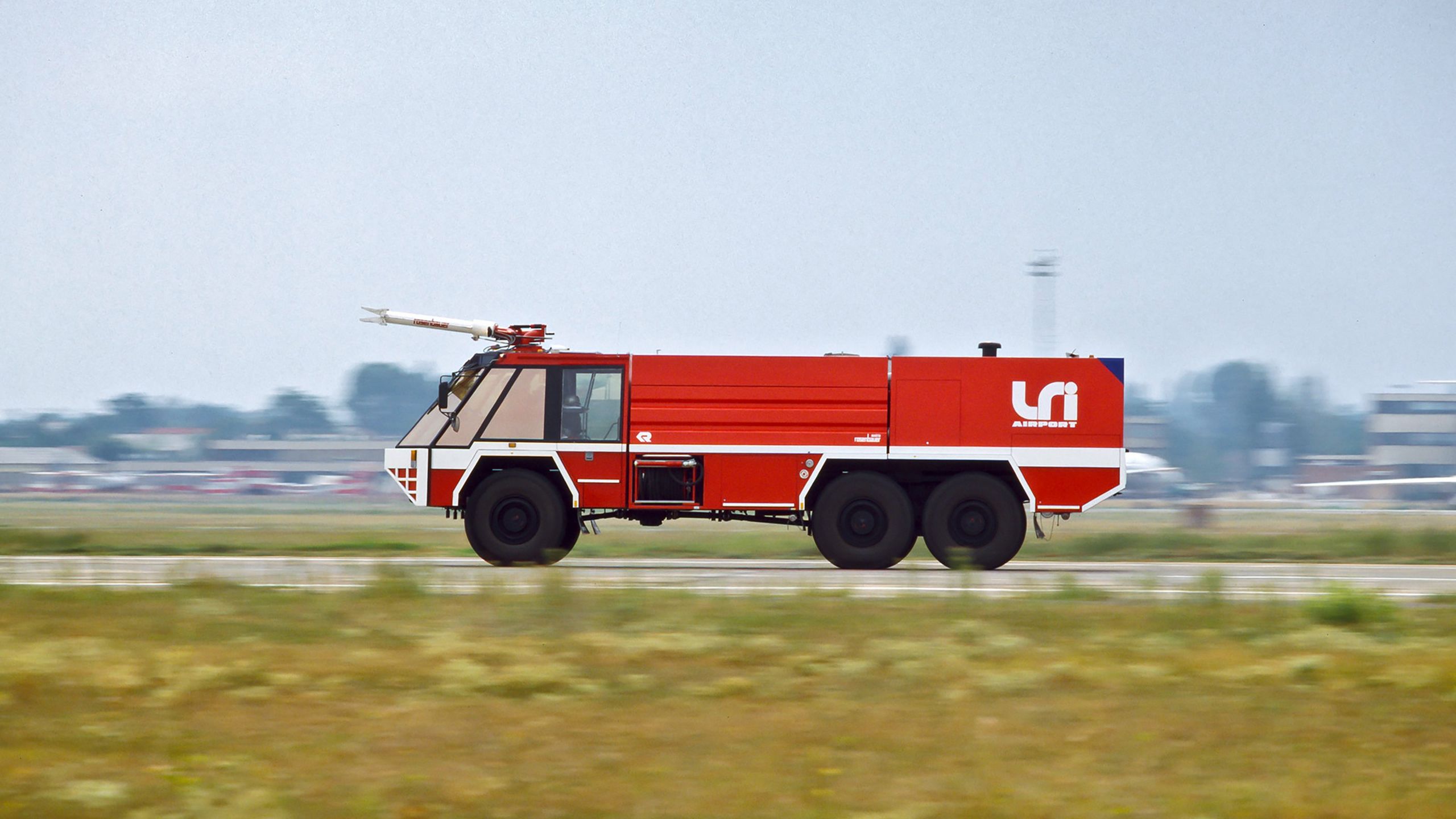 Dubai Airport was also pleased to receive a Simba 6x6 in 1990.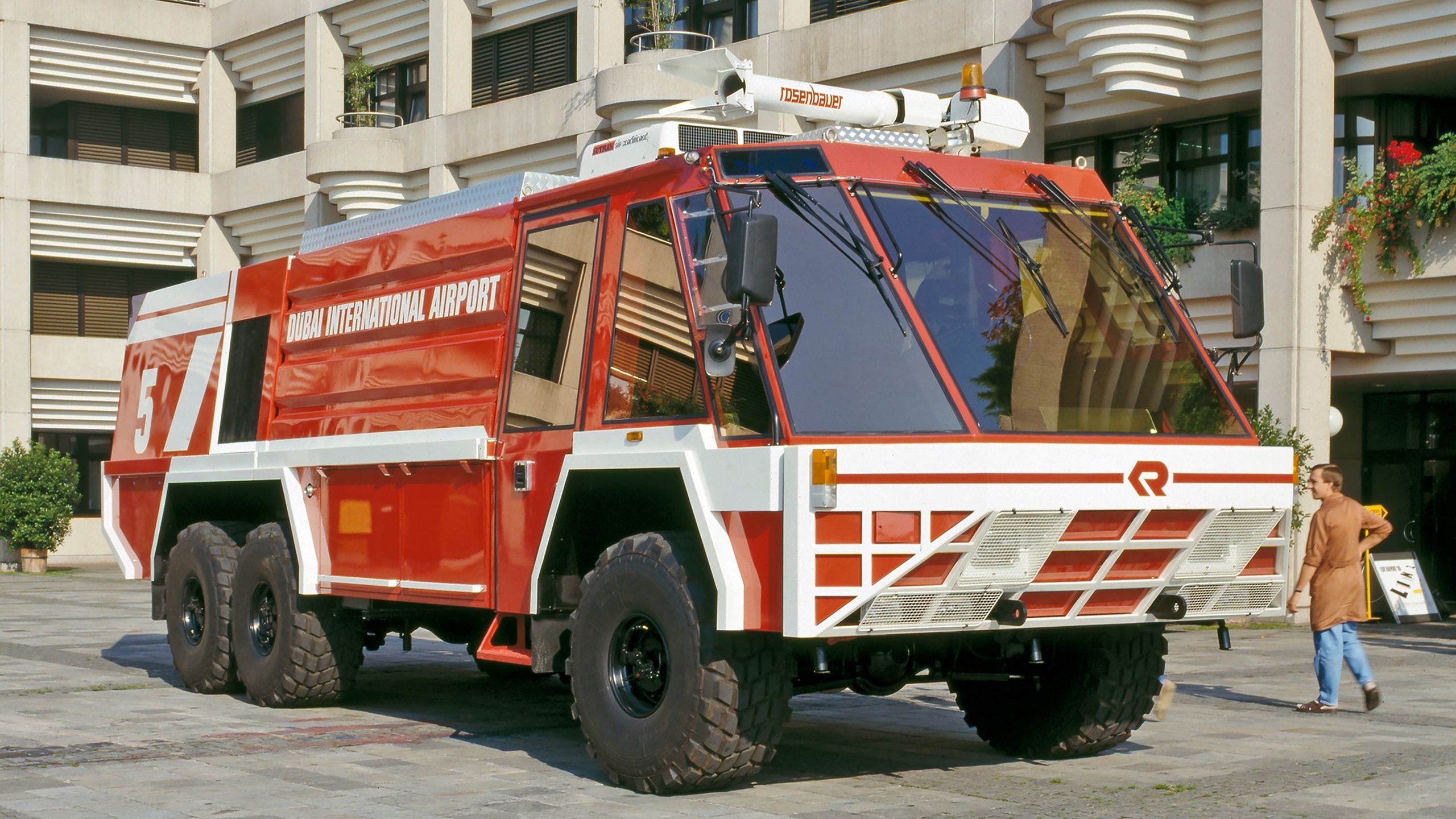 The Simba 6x6 gets a new home at Frankfurt Airport.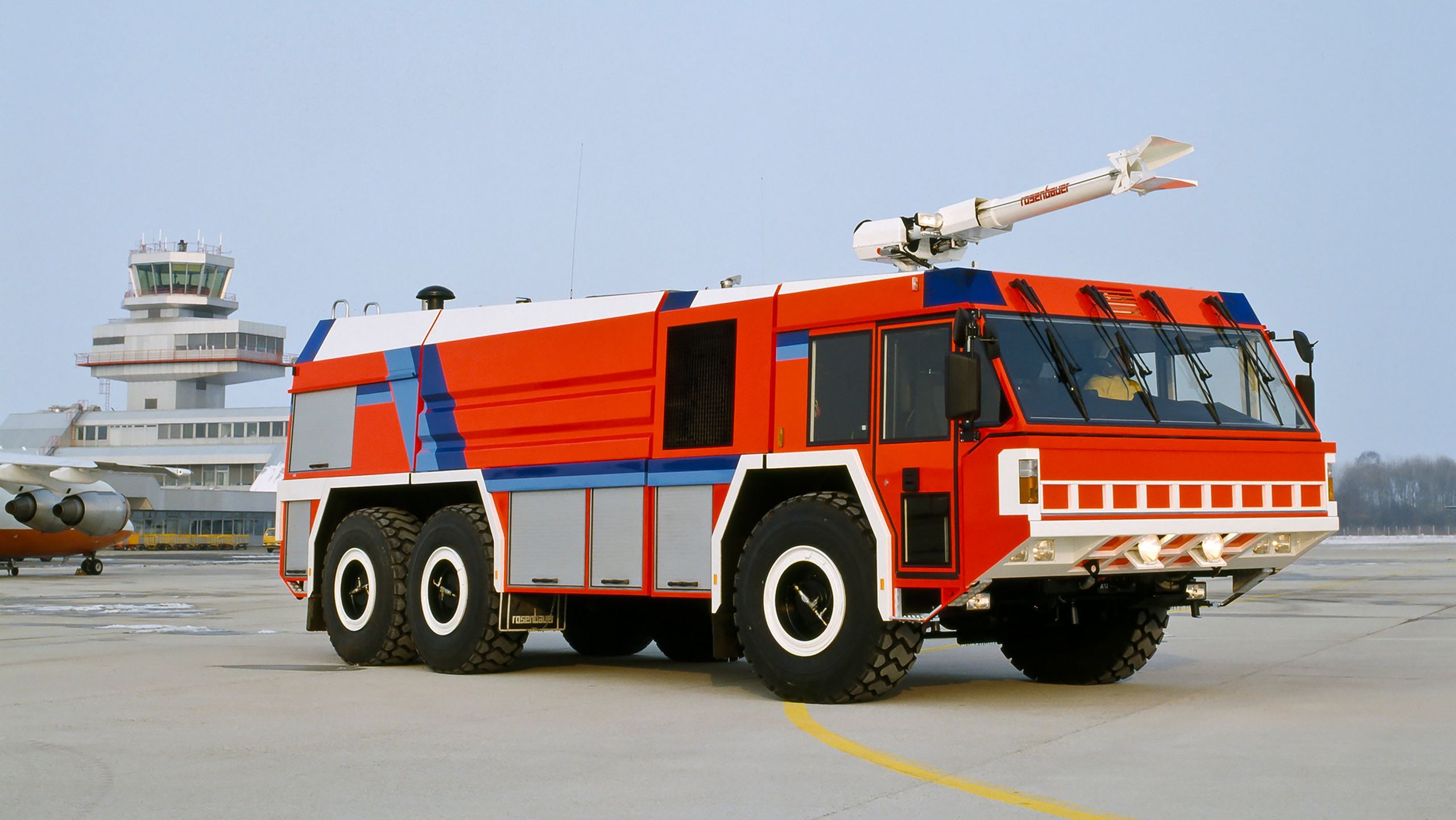 Earlier aircraft rescue and fire fighting vehicles
1965
In 1965, the starting signal was given for the first large aircraft rescue and fire fighting vehicles on a Mercedes-Benz chassis.
1974
In 1974 the first vehicles on special chassis followed. (Faun)
1980
In 1980 the first SIMBA was built on a special chassis. (Reynolds Boughton)
1984
In 1984 the SIMBA followed in an 8x8 version. (Titan)